Sort by
Featured

Best selling

Alphabetically, A-Z

Alphabetically, Z-A

Price, low to high

Price, high to low

Date, old to new

Date, new to old
Waist Chain Body Jewelry
Camillaboutique offers gorgeous belly chain jewelry. Personalized with a minimal touch and made specifically for you. These are distinctive and fashionable ornaments that may be used on many occasions. They are ideal for creating a statement at music festivals, adding some glitter to your evening wear, or adding a little shine to your beachwear or swimwear. Additionally, belly chains are a fantastic method to emphasize your tummy and highlight your curves. There is a belly chain to fit your own taste, whether you choose a delicate and exquisite piece or a big and statement-making one. In order to add a bit of boho flair to any clothing, whether you're dressed up or down, think about adding a waist chain.
They are adaptable accessories that work well with a variety of looks. You may combine them with other necklaces or body chains to create a more elaborate design, or you can wear them alone as a statement piece. Additionally, they come in a range of designs with beads, shells, charms, and gold and silver tones among others. Depending on the style you prefer, body chains can be worn around the hips or the waist. A belly chain is a distinctive item that can add some additional flair and glitz to any ensemble, regardless of your own style or the occasion. So why not give one a try and see how it improves your appearance?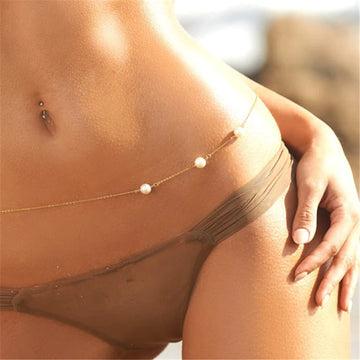 An item of body jewelry worn around the waist is called a waist chain. The waist chain may be worn alone or layered with another body chain, and they are available in a variety of patterns and materials. Women love belly and waist chains because they draw attention to their curves and give their ensembles a refined touch. This waist chain of body jewelry may be dressed up or down depending on the occasion and go with a variety of clothes, from swimwear to ball dresses.
Belly chains look good with a variety of clothes, from casual to dressy. Wear a beaded silver waist chain with jeans, a plain t-shirt, and sandals for a laid-back appearance. Layer a beaded silver body chain with additional necklaces and bracelets for a boho appearance. Use a delicate silver or gold waist chain with a cocktail dress for a more formal appearance.
It's crucial to keep your desired overall appearance in mind while styling body jewelry. Layering several silver body chains might offer intrigue if you're striving for a boho appearance. A straightforward silver or gold waist chain might enhance your clothing without overwhelming it if you're striving for a more traditional style.
Find the ideal body chain from our selection now in order to add some glitz to your clothing. We offer a waist chain for any occasion, whether you want delicate details and exquisite details or bold and statement-making details. With one of our waist chains, you can up your accessory game and boost your look right now.