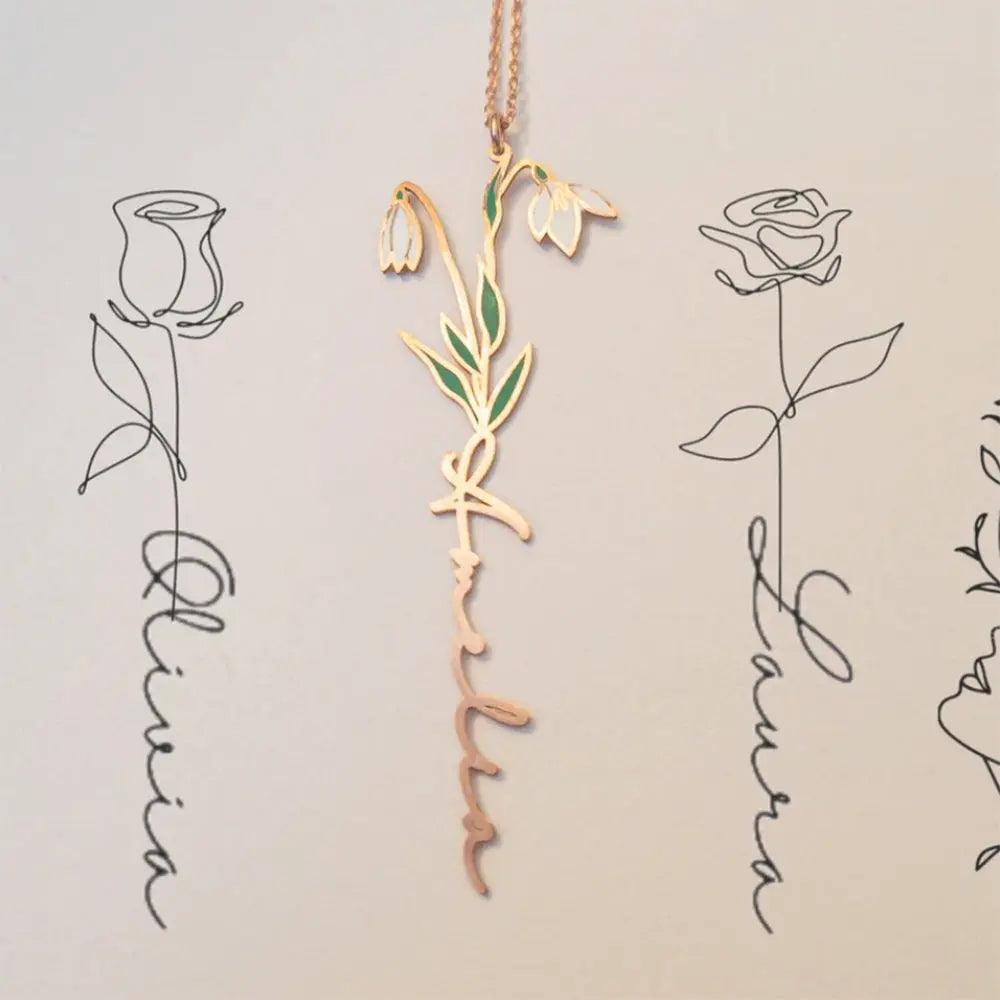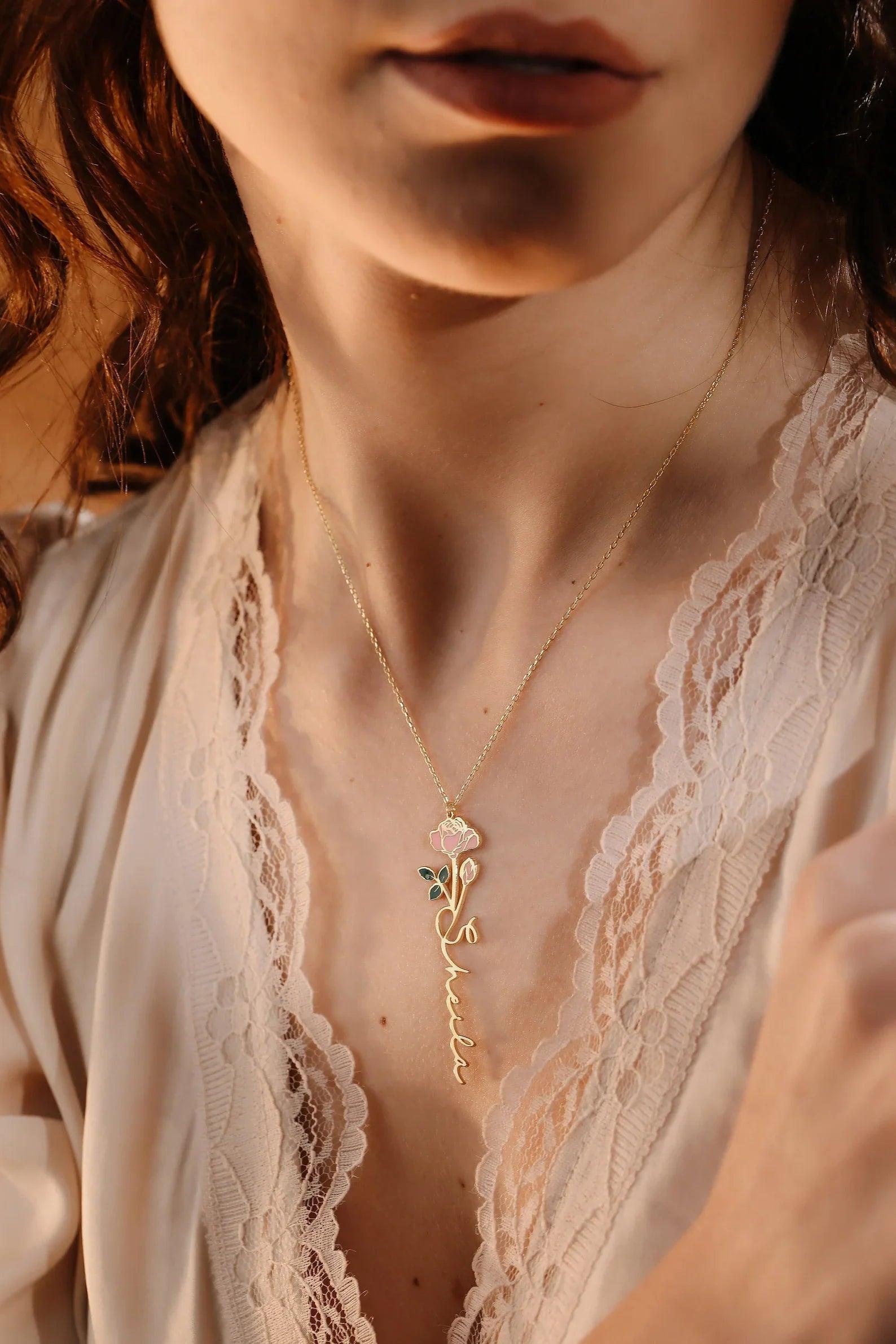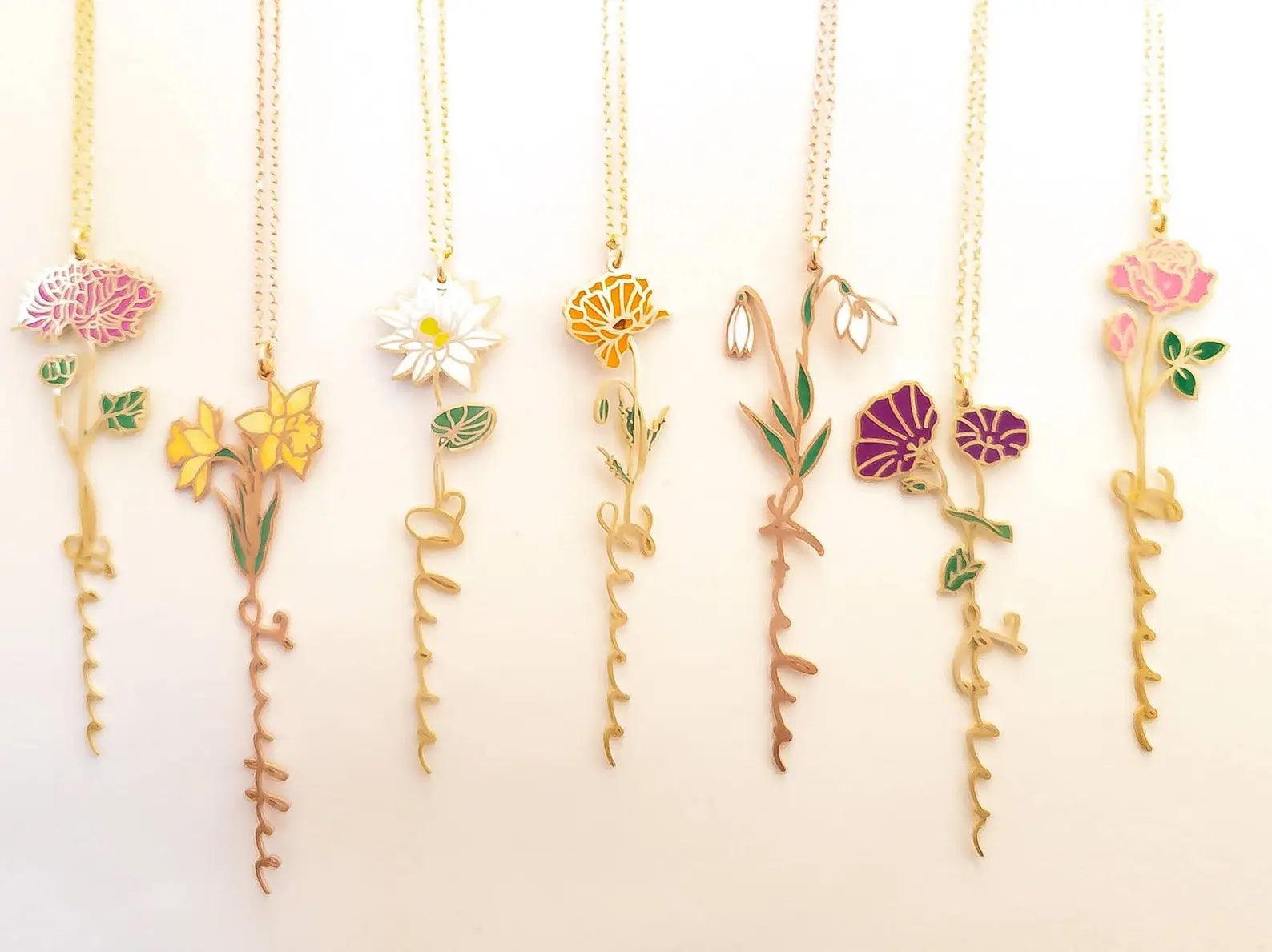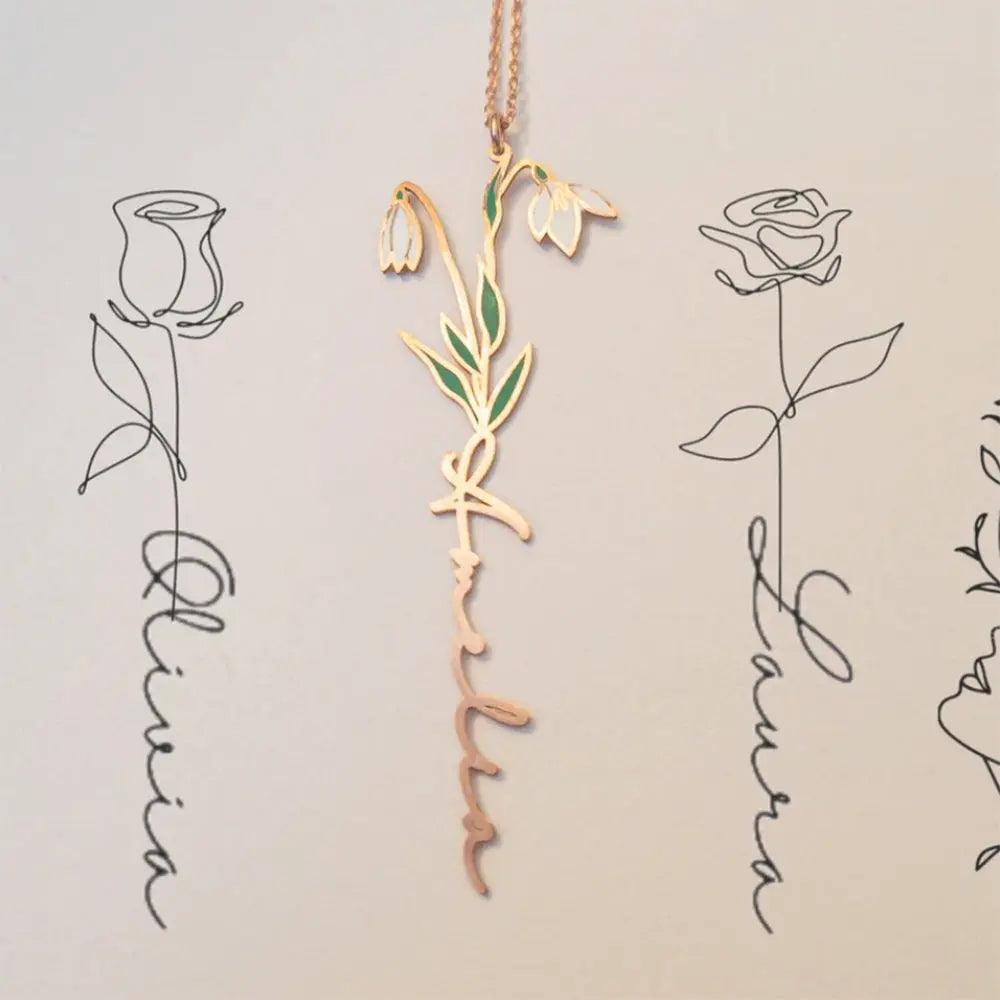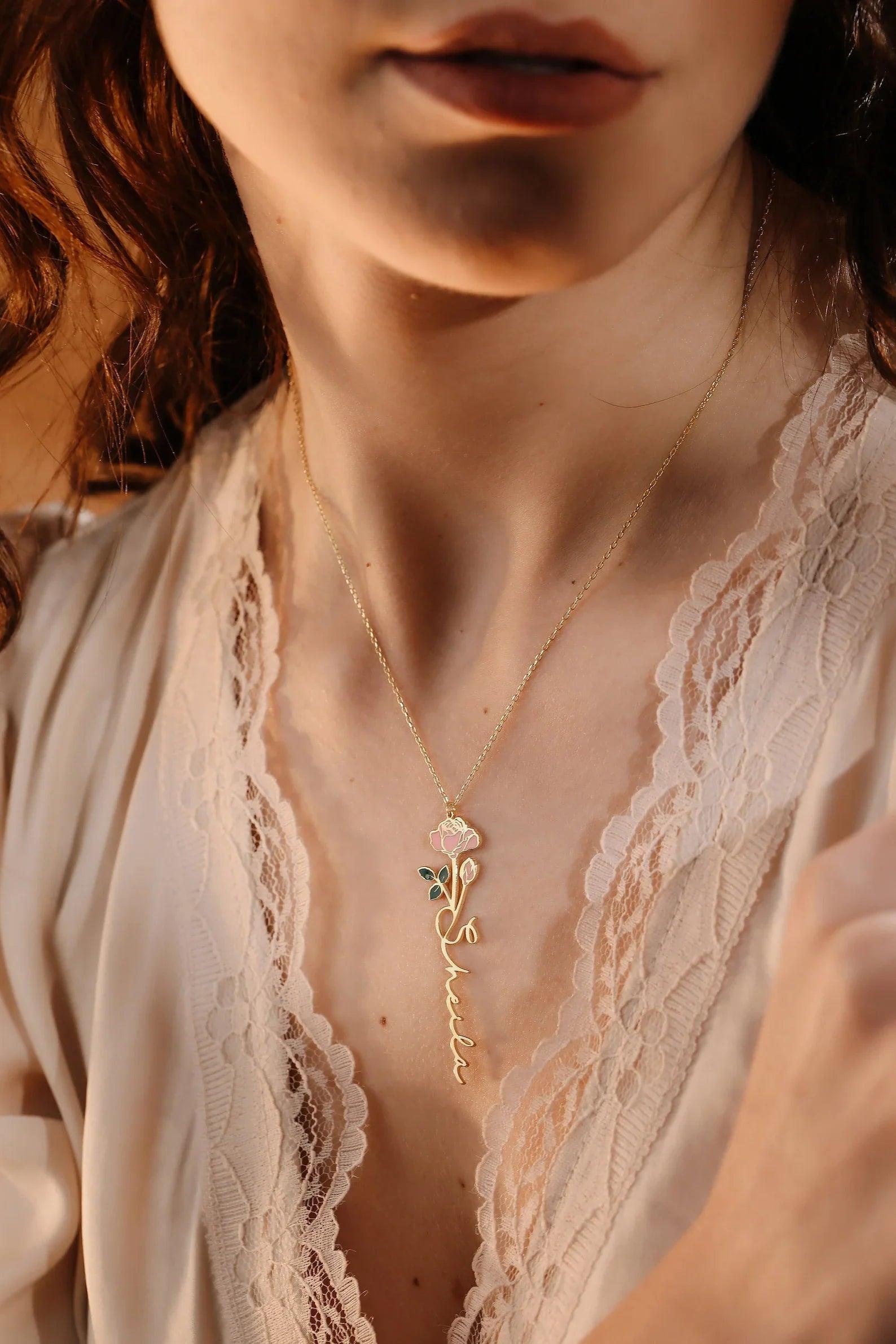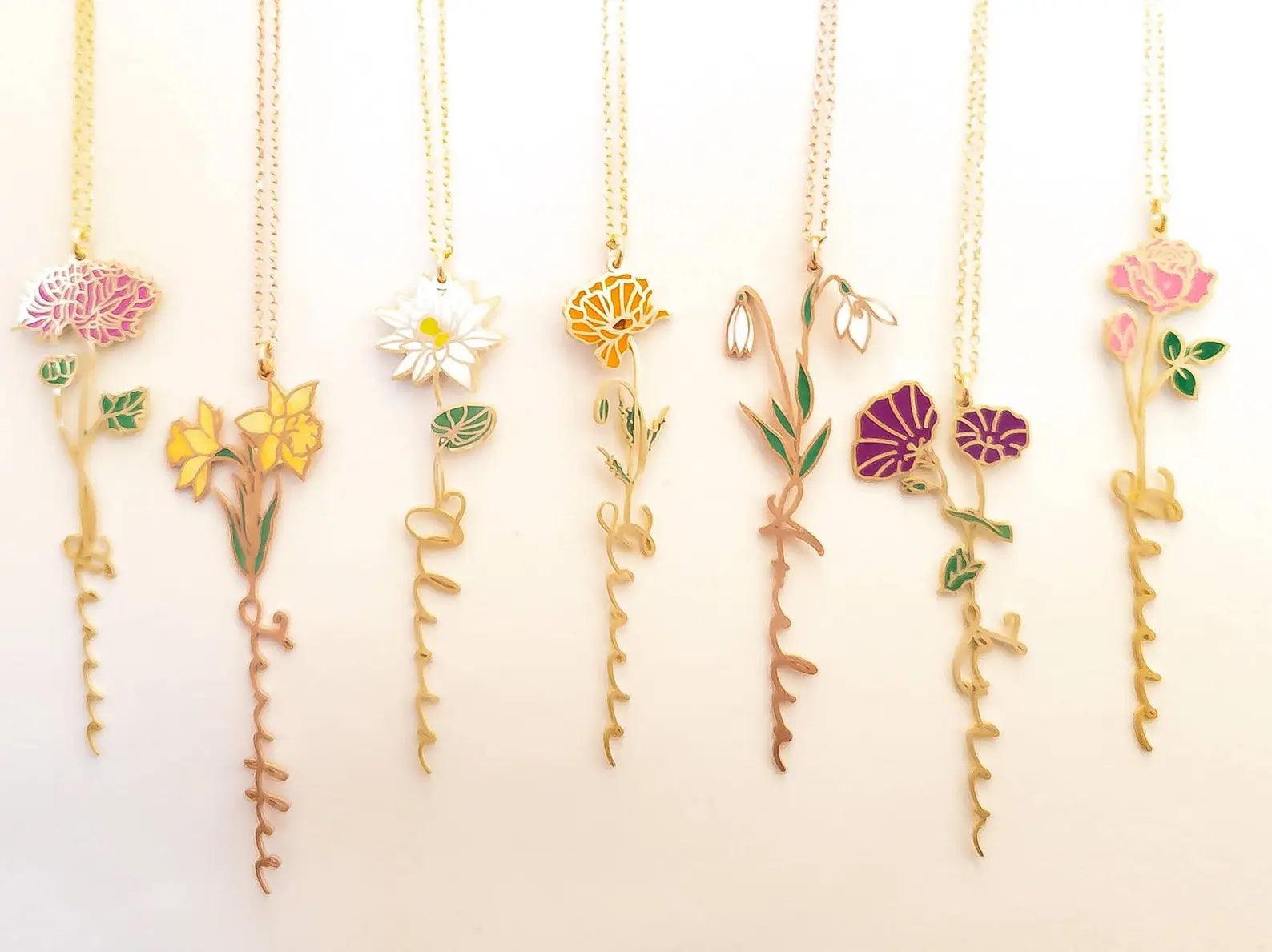 Birth Flower Name Necklace
Translation missing: en.products.product.price.regular_price
$43.79
Translation missing: en.products.product.price.sale_price
$43.79
Translation missing: en.products.product.price.regular_price
$0.00
Translation missing: en.products.product.price.unit_price
29 people are viewing this right now

Birth Flower Name Necklace - Unique Gift For Your Loved
Flower Name Necklace:The most distinctive jewelry is the personalized birth flower name necklace.There are twelve different types of flowers for each month. The features of birthflowers that bloom in various months vary, and they stand for strength, happiness, and good health. Create a flower necklace that is unique to you based on your birthday. Both protection and luck are possible with it.
Custom Birth Flower Necklace Dimensions Chain lengths: 14, 16, 18, 20, and 22. The personalized birthday flower necklace pendant height is 45 mm (6 characters). The necklace's cable chain and lobster clasp make it simple to wear and appropriate for any outfit.
Quality of Dainty Necklace: Lead-free, nickel-free, and hypoallergenic Copper Personalized Birth Flower Necklace with Name.Custom jewelry may be a sign of friendship or affection in addition to being a fashionable item for regular use.

The ideal present is a birth flower necklace that represents the month of the recipient's birth. They are appropriate as graduation presents for moms, daughters, girlfriends, wives, classmates, and friends as well as birthday, mother's day, Christmas, anniversary, Wedding and Valentine's Day gifts.

Personalize Me! Customize the perfect name, initial, or inspirational word necklace by adding between 2 and 10 letters to this necklace.
Birth Month Flower Name Necklace Detail:
Chain Length: 14",16",18",20",22"+2" extension chain

Chain Style: Dainty Cable Chain

Clasp Style: Lobster Clasp

Name Size

: Depending on your name, Height sizes range from 5cm to 7cm.

Necklaces are cast in 18K Gold, Rose Gold, and Silver plated 
 We also have no enamel option birth name flower necklace, Please check this version
Layering tips: Wear this birth flower name necklace on its own or together with other necklaces if you like to layer them

♡ Biggest Sale
This is the largest sale we've had all year. Make sure to place your purchase quickly because items are selling out very quickly.

♡ Perfect Birthday Gift
Our birth flower jewelry items are the ideal present for any fashion enthusiast. They come in lovely packaging and are sure to make you or your loved ones really pleased..

♡ Besties' Matching
You have a fantastic opportunity to coordinate with your bestie(s) with custom birth flower necklace! Get matching earrings to appear stylishly coordinated.

♡Internet Hit: Selling Out Quickly
Instagram and Tik Tok are flooded with images of our birth flower name necklace. Customers and influencers adore them, and we are confident that you will too.
WE SHIP WORLDWIDE
 Packages are generally dispatched within 3-5 business days after receipt of payment and are shipped -this excludes personalized items. 
FREE WORDWIDE SHIPPING.
International:
 *We are not responsible for any duties, taxes or customs fees
Custom items take up to 15-20 business days to ship as these items are made-to-order. With this being said, our shipping time frame is only an estimation, this is not a guarantee due to the unpredictable intake of orders on any given day. Every custom item we create is manufactured through a structured production process that is expected to be completed within this time frame. Since each custom item is made exclusively for you, there can be unexpected delays due to our personalized production process. If your order is experiencing a slight delay, there is no need to worry - feel free to reach out to info@camillaboutiqueshop.com at any point for an update. 
In the event that taxes and/or duties are incurred for your parcel, you will be held responsible to cover such fees before delivery can proceed.
What is your return & refund policy?
Hi bestie! Just a heads-up that we have a no refund or return policy for hygiene and sanitary reasons. 
We stand behind the quality of our products, but sometimes mistakes happen. If within 14 days of receiving your order, an item is: defective, broken or tarnished we will replace the item(s) for you.(Our policy only applies to items that are defective, broken, or tarnished due to manufacturing defects. We cannot do anything about items that are damaged due to misuse, abuse, or normal wear and tear.)
For hygienic reasons, we do not accept returns or exchange for earrings and body jewelry.
Custom and personalized orders are final sale
All discounted applied order are final sale.
Do you accept exchanges?
We gladly accept exchanges within 14 days of delivery.
Yes, if the item you received is unworn and undamaged with the original tag on it and no discount was applied, we will exchange it for a different product of equal or lesser value. This excludes all personalized items, as these items are final sale. 
Once your exchange is received, it will be thoroughly inspected by our team. If your exchange is received with visible wear or damage, we will refuse the exchange.
All shipping and handling cost are covered by the customer. We do not cover the shipping cost back to us and back to you. If you are not satisfied with your order, please email us at info@camillaboutiqueshop.com, Our customer service team will respond within 48 hours.
Camillaboutique reserves the right to refuse exchanges or returns at any time. 
Duties & Taxes
International customers may have to pay duties on taxes based on their country. It's the buyers responsibility to pay these fees. Every country is different and the cost will differ based on your countries policies for international shipments. 
Return-to-sender
Please check all your details at checkout. We do not alter shipping addresses. If your package has been returned to us we are happy to resend it back to you, you will be responsible for the additional shipping fee.  

Lost Packages
Once your package is handed over to the courier we are not responsible for any shipping delays or packages that are lost or stole. 
Order Cancellations
All orders placed are final. 
Order Modifications
If your order has not yet been processed, we can modify your order.  Please email us for order modifications by clicking Click Here!
If your order has already been processed we cannot modify your order. 
Order Modifications
If your order has not yet been processed, we can modify your order.  Please email us for order modifications by clicking 
If your order has already been processed we cannot modify your order. 
Return-to-sender
Please check all your details at checkout. We do not alter shipping addresses. If your package has been returned to us we are happy to resend it back to you, you will be responsible for the additional shipping fee. 
Where is my package?
After your order has been shipped you will receive a shipping confirmation email with your tracking number. Please note that we cannot provide you with any additional information than what your tracking shows.
PREMIUM QUALITY MATERIALS•TARNISH-FREE•WATERPROOFFREE
FAST SHIPPING
Orders are usually packed and ready to ship 2-5 business days after the order is placed.Important: Custom orders take between 4-7 weeks due to the handmade process.
CUSTOMER CARE
Your shopping experience doesn't end after you check out. We're here every step of the way. Get direct support via chat and email. Our customer care team is trained to serve you. We're here to help with any of your inquiries or concerns.
EASY RETURNS
We are committed to making the shopping experience at CAMILLA as enjoyable as possible.That's why we offer returns for any unworn & non-customized jewelry. Contact us within 14 days after you've received your jewelry for a store credit refund.
Let's discuss our water-resistant jewelry!
Our stainless steel items predominate. An alloy of steel and chromium is known as stainless steel. It combines the steel's durability, strength, and usability. Let's look at the advantages!

Stainless steel – what is it?

First and foremost, stainless steel is entirely recyclable!Because the primary alloying components of stainless steel are all extremely valued and easily recoverable and separable from other materials, recycling is made simpler.


Does Camillaboutique jewelry turns my skin green?
Our jewelry won't tarnish, turn your skin green, or fade. Due to its hypo-allergenic properties, stainless steel is a fantastic option for anyone with sensitive skin to metal.

Does Camillaboutique jewelry tarnish or discolor?
The appearance of stainless steel jewelry lasts longer than, say, sterling silver. This is another benefit. The hue truly remains the same whether you pour lotion on it or use it in the shower. After use, the golden hue may get somewhat darker, but it won't fade.

This makes it strong enough to wear during any exercise, including morning runs and lap swimming!To keep your jewelry looking nice and sparkly, store it in the Camilla jewelry bag you get with every transaction.

FAQ
Before making a decision to buy our "birth month flower necklace," it's crucial to study as much as you can about it. We know you're excited about it. Our group creates the most unique jewelry distinctive the most unique jewelry made on the market while keeping costs reasonable. Let's find out more!
What is a birth flower name necklace?
A customized necklace with a person's name and the flower that corresponds to their birth month is called a "birth flower name necklace." It is a special and kind way to honor a loved one's birthday. The person's name is usually aetched or imprinted into the necklace, and it frequently has a pendant or charm that represents their natal flower. Stainless steel,brass and sterling silver are just a few of the materials that may be used to create birth flower name necklaces.To make them even more unique and significant, they may be personalized with multiple font types, various chain lengths, and extra charms or birthstones.

Can I choose the material for the birth flower name necklace?
Yes, you have a choice in the birth flower name necklace's material. We provide three standard materials, including sterling silver, brass, and stainless steel. The choice of material may be influenced by aspects including personal preference, price range, and durability. It's a good idea to take the wearer's tastes and wants into account when selecting the necklace's material.
We of

Can I choose the font for the name on the birth flower name necklace?
The birth flower name necklace does allow you to choose the typeface used for the name. Block, script, and cursive are common font types. The font selection can be influenced by taste and the necklace's overall design. While certain font designs may be stronger or more contemporary, others may be more delicate or graceful. Consider the font's readability as well, particularly if the name is lengthy or contains odd letters. Simply send us an email with your requested font style choices.

Each Birth month flower just like birthstones, holds special meaning for each month they represent:
January: Carnation
Carnations' ruffled, vibrant flowers are a representation of commitment, love, and loyalty. Carnations are one of the few flowers that survive from summer into winter, therefore it is also a sign of tenacity.
February: Violet
The flower for February is supposed to stand for loyalty, bravery, knowledge, and faith. It has a long history of therapeutic usage. These little blossoms can resist extreme weather, which makes them the ideal flower for the middle of winter.
March: Daffodil 
Daffodils are a suitable birth month flower for March since that's when the Northern Hemisphere starts to see the first hints of spring. Daffodils also stand for fresh starts, rebirth, and joy in the same way that spring does. They may also stand for gallantry and unrequited love.
April: Daisy
The flower of the birth month for April is the daisy, which comes in a range of hues and sizes. These blooms, properly called "daisies" from the Anglo-Saxon "day's eye," bloom with the first appearance of sunshine. According to folklore, daisies stand for purity, innocence, and maintaining secrets.
May: Lily Of The Valley
 The fragrant white blooms are frequently linked to archaic feminine ideals like chastity, purity, and sweetness. The modesty and chastity of the virgin goddess Ostara are symbolized by the lily of the valley blooms in Germanic mythology.
June: Rose 
The rose is June's birth flower. One of the most popular, easily available, and adaptable herbal treatments on the planet is this flower. Roses stand for adoration, passion, and love.
July: Water Lily 
The water lily, which delicately rests on fresh water, is the birth flower for July and is calm and quiet. The name "Nymphaea" for these flowers is derived from the Greek word "nymph," which refers to a feminine spirit that lives in forests and rivers. This flower stands for grandeur, purity, and spirituality.
August: Poppy 
The flower for August's birth month is the vividly-hued poppy, which stands for success, happiness, and positivity. Poppies can be used in rituals for unwinding.
September: Morning Glory 
The lovely morning glory, which grows on vines and cascades over garden walls, stands for affection. They open up quite early in the morning and close up relatively early in the afternoon, hence earning the moniker "morning glory."
October: Marigold 
The marigold is a flower that is ideal for October because of its warm, rich hues, which fit well with the season. They stand for passion and love. 
November: Chrysanthemum
Chrysanthemums are fragrant flowers that are associated with cheerfulness, enthusiasm, and friendship.
December: Holly
Holly is a lovely evergreen that is frequently used as a decorative item, particularly during the winter holidays. It is not frequently connected to a particular symbolic significance as a flower. But in many societies and circumstances, holly leaves and berries have diverse symbolic connotations.
Can I add other charms or birthstones to the birth flower name necklace?
Yes, you may further customize the birth flower name necklace by adding more charms or birthstones. This can incorporate personal symbols like as initials, hearts, or other designs that are meaningful to the bearer. In order to reflect the wearer's birth month or other significant events, birthstones can also be placed to the necklace. Along with the birth flower and name pendant, additional charms or birthstones may be affixed to the necklace as pendants or charms. If you would like to add more charms or birthstones to the necklace, please send us an email with your request. It's a wonderful way to add even more character and significance to the birth flower name necklace.

Can You Personalized Birth Flower Name Necklace?
Yes! The custom birth flower necklace may be customized with the recipient's initial, name, or birthdate in addition to the natal date and flower. As a result, the recipient may find the present to be much more important and precious. A lovely and considerate present for mothers on birthdays, Mother's Day, or other important events is a personalized birthday flower necklace.
What's The Turn Time Of My Custom Pieces?
As soon as you place the order, our team gets to work.
You should allow us plenty of time because it includes birth flowers connected with new date, a specific month of birth low date, month, date, month and other delicate details. Typically, it takes 12 to 15 business days to complete one of our custom creations.
We want you to be completely delighted if you purchase or are using items of this as a component of the ideal gift for a loved one. It might not ship for a year, month or few weeks as a result.
What Length Option Did you Supply Of Birth Flower Necklace?
The name and birth flower necklace comes with a chain length of choice of 5+ chain length lengths. But, we do provide 16", 18", 20", and 22". chain length Thus, you may wear any chain length with it. Choose a chain length that perfectly complements your other jewelry.
Can The Birth Flower Name Necklace Be A Good Gift?
Absolutely, the personalized birth flower flower name necklace is a wonderful Christmas or birthday present! For practically any occasion, you can give to the women in your life.
You might, for instance, know someone who adores roses. You can give this to them as a gift for their birthday or Christmas even if they weren't born in June. Similar to how you may give it to mothers on Mother's Day or any other occasion where you would typically give gifts. Some individuals even give their favorite women the birth flower and name necklace as a token of their goodwill.
We advise purchasing and shipping this necklace approximately a week before the occasion if you intend to give it as a Christmas or birthday gift this year. To make sure there are no delays in ship out, you might want to give two weeks' notice.
You can assure the birthday lady that her gift will arrive shortly even if there is a delay. Most likely, all she wanted was to know that you had thought of her and sent her something. Please be aware of our shipping policies as the majority of people prefer to pick up the goods in person.
What Are Rose Gold Jewelry's Advantages?
Many people choose this color of the floral name necklace because it appears softer and matches almost any outfit. With its numerous advantages, rose gold jewelry is a popular choice for high jewelry aficionados.
First off, all skin tones look good with rose gold jewelry's soft, silky appeal that is both vintage and ancient. It looks like old jewelry and is a perfect accent to modern bracelets and necklaces.
Second, rose gold is an excellent option for engagement rings because of its strength, ease of maintenance, and timeless beauty that only gets better with age.
Also, it is more affordable than other gold metals, and as it ages, its color deepens, giving it a long-lasting and ideal addition to one's attire. Also, unlike yellow and white gold, rose gold does not need to be rhodium-plated, a type of metal plating that adds an extra layer of protection to the jewelry.
What Are Silver Jewelry's Advantages?
Since silver has certain qualities that make it a distinctive metal, silver jewelry has several benefits. 
First of all, silver has been shown to be a powerful antibacterial agent that can help prevent colds and flu and fight infections .
Silver may also improve circulation and blood flow while controlling body temperature.
Sterling silver is a strong material that can withstand the test of time, even with everyday usage, when it comes to jewelry specifically.

Overall, silver jewelry has several advantages beyond its attractive appearance.
What Are 18K Gold Jewelry's Advantages?
Customers frequently like to order our 18k gold Custom name necklace with the birth flower because they view it as a more upscale jewelry material z a high price,. It is also more valuable z a low price, than others, therefore let's find out what advantages it has:
Its greatest benefit is that it is the purest kind of gold that can be used in jewelry while still having a beautiful and opulent appearance.
Durability: Because 18K gold is composed of a combination of other metals and 75% pure gold, it is a robust and long-lasting metal. In contrast to lesser karat gold or other metals, it is less prone to scratch or bend.
Classic and Timeless: Jewelry made of 18K gold is a timeless item that is always in fashion. For generations, it has represented wealth and rank, and its appeal continues now.
Doesn't Fade - The 18k gold coating on our gold goods stops the metal from tarnishing or fading. To guarantee that it endures the test of time, you must keep it free from perfumes and other pollutants. It should be kept in your jewelry box or camillaboutique pouch per our advice.
What is your birth flower necklace return and exchange policy?
Currently, we do not accept the return or exchange of personalized items or high jewelry items like the name necklace with flower. Because it's been specifically created for you, double-check everything before paying!

You can email Camilla's Boutique Shop at info@camillaboutiqueshop.com if you have a problem with the birth flower name necklace or are dissatisfied with your purchase. We'll collaborate with you to make sure everything is in order!